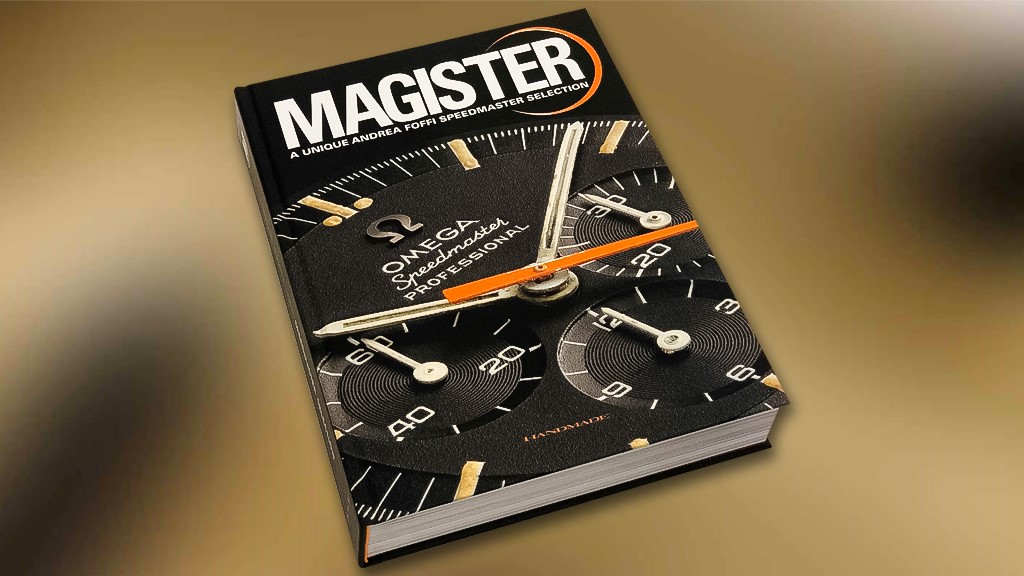 04 Feb

MAGISTER, A UNIQUE ANDREA FOFFI SPEEDMASTER SELECTION
Entrusted to Tecnostampa, Pigini Group, a book created to admire one of the most complete collections in the world of Omega's Speedmaster.
MAGISTER, a unique book that tells the story of Omega's Speedmaster, the incomparable iconic sports chronograph, increasingly loved and desired by collectors and the undisputed protagonist of watchmaking history of the last half century.
MAGISTER was created by Andrea Foffi, to give body and soul to his deep and insatiable passion for watchmaking and offers the public an invaluable photographic collection of this extraordinary collection.
Edited, written and layout by the journalist Paolo Gobbi, with photographs by Fabio Santinelli. It tells the story of the Speedmaster through a collection of 70 collector's pieces, alongside the contributions of significant figures from the Omega world: Pietros Protopapas – Heritage Manager of Omega, Aurel Bacs – Phillips senior consultant in association with Bacs & Russo, Robert-Jan Broer – Founder of Fratello Watches, Chrono24: The home of luxury watch buyers.
In the book, the American astronaut, Michael Landon Gernhardt (flight veteran with over 43 days in orbit, including 4 extra-vehicular spacewalks totalling 23 hours and 16 minutes) tells us first-hand about his collection and his emotions during the four space missions in which he participated with his Speedmasters.
Andrea Foffi contributed to this book by not only providing the extraordinary models from his personal collection photographed by Fabio Santinelli, but also by providing information about the historical aspect of the collection, based on his decades of experience in the Speedy world.
ANDREA FOFFI
Andrea Foffi is a passionate collector and enthusiast known all over the world for his love of Haute Horlogerie, especially Omega. He is the owner of Vintage Watches and Cars. His more than twenty years of experience began in the 90s in the editorial office of OM, the leading vintage watch magazine. In that period, he improved his technical skills concerning the knowledge of the world of watch hands and started his own online business with the Oredelmondo website and www.vwcweb.com.
To create MAGISTER, Tecnostampa has employed the technique of 'hexachrome' six-colour printing, reproducing with exact fidelity the richness of the most incredible and fascinating mechanisms ever enclosed in forms of steel and gold, with sometimes faded colours, scratched surfaces, but all stronger than time.
MAGISTER – A UNIQUE ANDREA FOFFI SPEEDMASTER SELECTION
© HANDMADE Editore – Rome
ISBN 9791280781000
A project by: Andrea Foffi and Lidia Ceccarelli;
Editorial manager and texts: Paolo Gobbi; Photographs: Fabio Santinelli – f2f studio;
Publishing Managers: Marco Moretti and Michele Moretti
Format 240×330 mm; 416 pages with hardback cover and box;
Texts: Italian/English; More than 370 original photographs;
Garda Matt woodfree coated paper of 200 gr/sm PEFC;
High quality six-colour printing with UV-LED technology;
Printing and binding: Tecnostampa Pigini Group Printing Division – Italy – December 2021.
For further information
MAGISTER, A UNIQUE ANDREA FOFFI SPEEDMASTER SELECTION